MASM Error Lookup Tool
Version: 2.0.10
Last Updated: 03-05-18
It supports all of the Microsoft Assembler tools:
Ml
Cvtres
NMake
Link
Lib
Dumpbin
Editbin
RC

What is it?
When you use the above tools, you will often receive cryptic error numbers.  You will then have to search Microsoft and hope you can find a description of the error.  I have taken that work away from you with this easy to use and quick program!

How do I use it
The pushpin is to keep MELT on top of other windows. (Click it and see what happens)
The arrow will make MELT smaller to keep out of your way. (Click it)
The question mark describes what the error type is. (If yellow, hover mouse over icon for tooltip with more info).
The note icon.  If it is yellow, there is a note for that error. (Click to view note)
If not, click note icon To create a note.
Click magnifying glass icon to view all notes.
Main Window: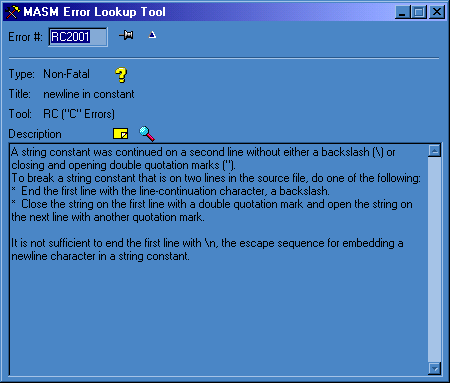 Note Browser:



Download 74,740 bytes
Install:
Create a directory for MELT and unzip files to that directory.

Un-Install:
Delete the Melt directory